Small Parcel Weed Control Rate Sheet 2020
Rate: $125/hr + chemical + mileage to/from site ($0.35/km) + GST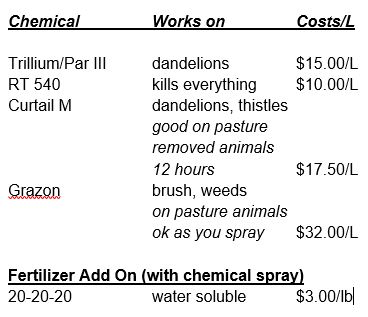 Typically a flat terrain two acre pieces can be sprayed in 1 hour. Gates, hills, rough terrain, additional tanks will slow down the spray time process. Hand spraying along edges and fence line may slow down process if required. Prices quoted are estimates only billings are done based on mileage, actual time and chemicals used. We come with our tank loaded with water but for larger pieces please advise if there is access to water on the site or if we have to bring additional.
Payment by: Cash, Cheque payable to Hutchinson Fertilizer, E-transfer to wwenaas@aol.com Password is killweeds
We look forward to working for you this growing season.
Call us with your questions or to schedule a spray time.
WEEDS BE GONE!